Report Fraud!
Help Us Crack Down on Tax Cheats.
Property owners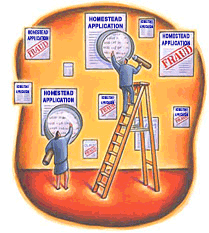 who file false applications to obtain a Homestead Exemption are breaking the law ... and they're making you pay more in taxes each year. Why? Because the School Board, the County Commission, your local City government, and the various other taxing authorities must fund their budgets by equitably dividing the tax burden among all the property owners within their jurisdiction. If someone lies to falsely lower his or her own tax bill by claiming tax savings he or she isn't entitled to, that means someone else has to make up the difference. And -- you guessed it -- that "someone else" is you (and all of the other law-abiding taxpayers).
In the past, our office worked with city officials to identify tax cheats and make them pay their fair share. In another instance, neighborhood association leaders helped identify addresses of numerous homes granted Homestead protection that were also seemingly operating as commercial businesses. Plus, we always get numerous anonymous phone and mail tips about potential Homestead fraud.
Pursuant to Sections 193.155 (9) and 196.161 of the Florida Statutes, owners who intentionally cheat on Homestead and other exemptions will have a tax lien placed against their properties, be back taxed for up to ten years (as applicable), be required to pay a substantial penalty (50% of the unpaid taxes for each year) and pay interest at a rate of 15% per year.
Remember, a Homestead Exemption and the Save Our Homes protections can easily be worth over $3,000 in taxes each year. Our aggressive anti-fraud work makes tax cheats pay their fair share ... and that helps keep your taxes down. If you believe you have reliable information about someone engaging in fraud relating to exemptions or special property classifications -- or you spot errors in our property records -- please call our Fraud Investigation Unit at 954.357.6900 and we'll check it out.
To report fraud anonymously, please use our online reporting form. Simply leave your name and contact information blank on the form if you wish to remain anonymous.